| | |
| --- | --- |
| | I hope you will go out and let stories happen to you, and that you will work them, water them with your blood and tears and you laughter till they bloom, till you yourself burst into bloom. --Clarissa Pinkola Estes |
Where Will All the Stories Go?
--by Parabola Editors, syndicated from Parabola, Jan 21, 2017
The following conversation–or as P.L. Travers calls it, a "coming together"–took place between two people who must certainly be well known to PARABOLA readers: African-born Laurens van der Post and Australian-born P.L. Travers, both of them lovers and guardians of story. Sir Laurens, recently Knighted by Her Majesty in recognition of his distinguished career as writer, soldier, and explorer, is the author of many books, including Venture into the Interior, Heart of the Hunter, The Dark Eyes of Africa, and Bar of Shadow. His fields of expertise are many and varied, and his friendships and enthusiasms have a wide range–from the Bushmen who influenced his childhood and whom he later sought out and celebrated in his famous book Lost World of the Kalahari, to C.G. Jung, whose close friend he became in Jung's later years.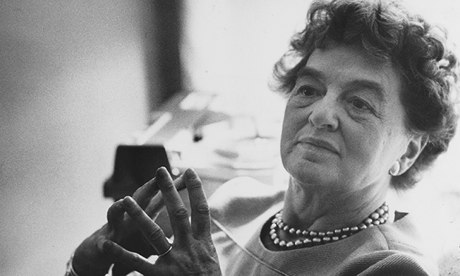 PL Travers in the 1950s. Picture: Supplied Source: News Limited
P.L. TRAVERS
Laurens, let us go back to the beginning of things. I have long carried this question–where, having come so far, will all the stories go? Naturally, since it is your country, I am thinking specially of Africa. And I wonder, when everyone there has a gun and a television set, what will happen to the ancient lore? Only today I was reading of the increasing number of suicides among those who leave the wild for the cities. Lacking the extended family, separated from the tribe, and therefore from the stories, what have they to lean upon? Already the stories are becoming unavailable to those who need them most. Well, you know more about this than anyone, almost, in the world. Let us share it together.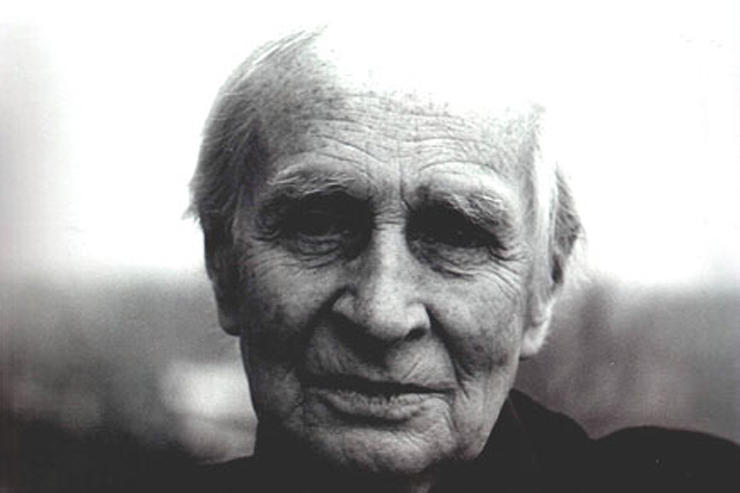 Laurens Van Der Post
LAURENS VAN DER POST
Ah, I do not believe that I know more about stories than you do, but I couldn't love them more. And I love them because it seems to me that without stories, human beings wouldn't be here. Human beings are a story; they are living a story and anyone open to this story is living a part–perhaps all–of themselves.
P.L. TRAVERS
So there is no need to invent myths, which is what–feeling a lack in themselves–people are nowadays trying to do?
LAURENS VAN DER POST
Well, I think that that is an impossibility. It is one of the great illusions of the literature and art and the life of our time that people like Tolkien are supposed to have "invented" myths. They have done nothing of the sort. They have substituted a sort of intellectual effort, a conscious determination–which they, quite wrongly, call myth–for this very profound process which cannot come from anywhere but out of life itself. It is something that falls into us. I have been very much concerned about this because, only recently, I was asked to say something about Descartes' famous statement–"I think, therefore, I am." There, it seems to me, is the beginning of the fatal hubris of our time. Of course, there is an area in which we think–who could deny it?–but, really, all the most important aspects of thought come from that which is thinking through us. And this process is the myth, one of the most profound things of life; it is creation itself, which becomes accessible and, in part, energizes and gives, of its own accord, a sense of direction to the human creature. It is something with which–we are in partnership. And the story is one of the roots of this area, this area from which myth arises, which sustains and feeds the human spirit and enables man, and life on earth, to be greater than it could otherwise have been.
P.L. TRAVERS
And that's what men are now hunting for–for life's sake, one could say–and they think they can get it by inventing the kind of thing that brought Roots to all the television screens in America.
LAURENS VAN DER POST
I thought it was appalling, phony and untrue to myth and even historically untrue. And what makes it so sad is that it comes out of the genuine longing of millions of people for roots, those millions of people who do not realize that in the most profound sense, we carry our roots within ourselves. They need not be physical roots, which is what this man has tries to provide, a phony kind of physical source for what, in a sense, is the super-physical, a hunger for roots in the myth.
P.L. TRAVERS
I would say that really we don't even need that "super." It exists. It courses in our blood, carried along from one generation to the next–wouldn't you agree?
LAURENS VAN DER POST
I would. I only use the word "super" as a substitute for the whole process which moves and works within us.
P.L. TRAVERS
It's the same with the word "supernatural." For me, the natural includes the "super." And this brings us to what you wrote in, I think, The Heart of the Hunter, where you say–or, rather, the Bushmen say–"We are dreamed by a dream."
LAURENS VAN DER POST
Ah, I was very moved by that because, being in the company of a very ancient form of man, a Stone Age hunter in the Kalahari Desert, I was pressing him to tell me about the Beginning, his idea of the Beginning and the beginning of those stories you were speaking of. He looked at me in astonishment and said, "Well, that's a very difficult thing because, you must know, there's a dream dreaming us." And this seemed to me to sum it up, to arrive, for instance, at the point where all explorers of the human spirit have begun–and also ended. It leads us to Shakespeare's famous conclusion in The Tempest, one of the last plays he wrote, where he comes face to face with the fact that he has exhausted all his own powers, come to the frontiers of himself, where something other than what has brought him to this point must now carry him on. You remember the epilogue–
"And my ending is despair
Unless I be relieved by prayer…"
But even before that he has come to the conclusion that
"We are such stuff
As dreams are made on."
And what is the distance between him and that little Stone Age man who had never before seen a white man and never heard of Shakespeare? For his own myth inside him tells him: "Look out! Watch! Listen! A dream is dreaming through you." And this enriches him. It seems to me that this man, whom everybody else thought of as poor, despised, rejected, was rich in a way that we, without our technological abundance, are destitute.
P.L.TRAVERS
We have nothing, we are poverty-stricken. This, in a way, is like the Australian concept of the Dreaming, of which I know a little, having been brought up there. Everything that is not at this very instant–when we're chopping wood or finding witchetty grubs–is in the Dreaming. I can go into the Dreaming and you can go into the Dreaming at any moment and be refreshed. The anthropologists call it the Dreamtime but that word "time" immediately makes things move serially, puts them into place and locality. The Aborigines speak of it as the Dreaming–in their tribal tongues, Yamminga or Dooghoor–and for them everything is there. It is similar to what the Celtic peoples mythically call the Cauldron. They cannot go further back in their thought than a great-grandfather, nor further forward than a great-grandson. Beyond these, all is in the Dreaming–the making of the world, the great days, the great heroes. I was reminded of all this when reading–oh what you–or the Bushmen, rather–call "tapping." "There is a tapping in me." Perhaps if Tolkien and the makers of Roots and all the other inventors of what cannot be invented could hear that tapping, listen for it as your Bushmen do, it could be in them as well, don't you think?
LAURENS VAN DER POST
Yes. It is very interesting that we have both instinctively picked up on Tolkien, because–though few realize it–Tolkien himself was born in Bushman country–at a place I know very well. And his own journey, his particular inward journey, began when, as a boy of eight, he had a vision of the evening star in the sky over Africa, that part of Africa which was ancient Bushman country. And to that extent he was sustained. It was those first eight African years that impelled him on his journey and aroused in him a sense of the importance of myth; but not sufficiently strongly for him to approach myth in a spirit of humility, in the sense that he could have laid himself down and said: "Take over. Tell me what you're about." Instead, he began telling the myth what it was about and so, of course, it's no longer mythology. It doesn't work.
P.L. TRAVERS
It remains invention. It comes out of his own enthusiasm and not from the myth's requirement.
LAURENS VAN DER POST
It is the same process which has made modern man speak of this organic, dynamic force in the human spirit as unreal. They use myth as a synonym of that which is not.
P.L. TRAVERS
As synonymous with a lie. I am constantly protesting against that. What would Mantis say, I wonder, Mantis who is one of the great embodiments of myth that you write of so often and that I remember, too, from childhood. For me she was simply a praying mantis, I did not know her as a mythical creature. But she filled me with a sense of wonder–the long narrow-waisted insect praying. I would stand for hours watching her, wondering when the prayer would end. But it never did. The saints must envy such energy! And then, when I grew up, I found Mantis in your books and knew her–or him?–for one of the Lordly Ones. Tell a little about that.
LAURENS VAN DER POST
Well, it's almost impossible for me to see Mantis as apart from my own Beginning because of my early experience. One of the great influences in my life was a Stone Age nurse, far more important to me than my own parents. I remember, as a very little boy, hearing her talking with Mantis. She was asking, in the Bushman tongue, "How high is the water?" And the mantis would put down its tiny hands.
P.L. TRAVERS
You actually saw the mantis doing this? It is so completely a ritual.
LAURENS VAN DER POST
I saw the mantis doing this. And I protested to my nurse, "But, look, we're not near any water. We're a thousand miles from the sea. Why do you talk to Mantis about water? Does water come out of the desert?" "Well," she said, "in the beginning, water was everywhere and Mantis was nearly drowned. And a bee came and rescued him and flew and flew all day long till the sun began to go down. Then the bee looked desperately round for a place where it could put Mantis and, suddenly, there it was! A wonderful flower above the water, a flower we no longer see on this earth, and the bee put Mantis inside it. So Mantis was safe, for from there, under the power of his own wings, he could find a dry rock to sit on."
P.L. TRAVERS
Ah, the bee! It had to be in the story, the sacred creature that everywhere brings and symbolizes life. Do you remember how the bees stung you and tried to send you away from the place of the sacred tree, so that your presence should not profane it? You first saw it in the swamp, remember, then in your dream, and again among those mysterious rocks that would not have their photographs taken. The bee was there, in that place of magic, where the paintings refused to go into the camera
LAURENS VAN DER POST
This is one of the strangest things that ever happened to me and it continues to haunt me. It's as though there's a parable in it, for, at that moment, not only myself, but the people for whom I was responsible, were in very grave danger. We were in a great treacherous swamp and one of my paddlers–we were using dugouts–was Samutchoso, a name meaning "That which is left after reaping"–I didn't know what he was the so-called witch-doctor of my dugout people, the Makoros–and he said to me: "There's something I ought to tell you. Out there in the desert there are some hills and in these hills, right inside them, there are many rooms, and in these rooms live the master spirits of all created life. And on top of these hills, there's a pool of water that has never yet dried up; and beside this pool there is a tree whose name we not only do not know, but are not allowed to try to know, a tree that has fruit on it and this fruit is the fruit of knowledge." "Why are you telling me this?" I asked." "Ah," he said, "that is for you to say." "Well, if we get out of this alive," I said, "will you take me there?" "Yes, I will," he said, "but on one condition–that on the way to the hills there is no shooting, no killing. It's the law of their spirits–they are called Slippery Hills, the Tsoudilo Hills–that no one may come to them with blood on his hands."
I solemnly agreed.
Well, it so happened that I had a great deal of trouble getting out of the swamp and after that many difficulties to face. But when, many months later, I was free to go back, I myself remembered my pledge but, alas, I forgot to share it with the people who were traveling with me. So, on the way to the hills, with Samutchoso guiding us–I, as always, in the rear, for in the desert that is where trouble starts–one of those in front sighted a buck and, knowing that we needed food, shot it. I went cold when I heard those shots ring out and, seeing the expression on Samutchoso's face, I said to myself, "Pray God, they've missed!" and to Samutchoso, "Forgive me. Don't blame them. I forgot to tell them." "It's not for me to forgive," he said. "Only the spirits can do that."
When we caught up with the others we found that, unfortunately, they had not missed but had killed two animals. And, when we eventually got to the hill, rising so extraordinarily out of the desert, we were in trouble from the moment we arrived. All night, with our camps pitched at the foot of the hills, hyenas and jackals and carrion crows cried like creatures out of The Valkyrie. But when my mechanic, who was also my tape-recordist, tried to record those noises, the machine–we had very primitive equipment, but the best that could then be had–simply wouldn't work. It had been all right before, but now we could get nothing from it. And then, at dawn, just as were walking, we were suddenly attacked by hordes of bees, coming from all directions. One of my guides, on all my Kalahari journeys, a marvelous and blameless man who had been for three years in the desert with me, got forty-three stings and was very ill. Curiously enough, I, alone, was not stung. And the moment the sun rose, all the bees vanished. So, we set out to start filming on the way. Looming above the desert, we came across a large rock and on it a set of rock paintings which no human being–I mean the words in the European sense–had ever seen. "Film!" I shouted, and the camera started to turn. Then, suddenly, it snapped! It wouldn't work. The photographer inserted another magazine. Again the thing started turning and again it snapped and went out. So it continued all the morning, magazine after magazine not working and, as a last straw, the pivot on which the magazine turned–it was a fine German Araflex camera–disintegrated. Imagine it–a thing of steel! We were now without a camera but I still have in my possession such reels as we could save and it's extraordinary how the shots start in frame, then gradually the frame narrows and–the stops.
"Well, at least," I said to Samutchoo, "you could, perhaps, take us to that pool that is never without water!"
In silence he led us on, past what must have been an ancient temple of some sort, for all the way to the top of the hills the rocks were embellished with most marvelous paintings–thousands of them, as though the animals they depicted were leading us in procession towards the pool, to keep us company. Thus it was we arrived at the water and beside it the tree with the strange fruit on it and a rock in which could clearly be seen two deep indentations.
"Here," said Samutchoso, "is the place where the first spirit knelt when he prayed to the tree to take care of all that had been created. I will show you how he prayed." And he knelt down in the two marks and was about to raise his hands in prayer, when he fell back, shocked, his face ashen. "The spirits have tried to kill me," he cried, and hurried us away, back to the camp, not permitting us to pluck any of the fruit in order that it could be identified. "No! We are not allowed to take it," he said. "The spirits are very angry."
That night, the recorder again refused to work and the next day we were again assailed by bees. We were all of us in such a state about this that I even began to wonder whether my Landrover could be persuaded to start. For three days we tried to get camera and recorder working–nothing doing, nothing.
P. L. TRAVERS
Man's work. Man's work. It failed because something more powerful had taken over
LAURENS VAN DER POST
Yes. And I was at my wits' end. So I walked out, in the evening, to be on my own, taking my gun–it was dangerous country–simply for protection. I walked for miles round the base of the hills and suddenly, out of them, stepped an enormous Kudu bull, a marvelous animal; it really seemed to me like a god, in the level light of the sun. I looked at it and it looked back at me, absolutely without fear, as though in that look it was trying to tell me something. I was so moved by this that I gave it a military salute; and it turned around and went into the bush and away back up the hill.
As I returned to the camp, something happened in me that made me say to Samatchoso–"Suppose I wrote a letter to the spirits asking forgiveness and buried it at the foot of the first rock picture–a pair of hands impressed in paint on the rock–do you think that would help?" In reply, he took a needle, asked me for a piece of cotton which he wound round his hand, then, putting the needle in the lifeline of his left hand, he gazed at it in a sort of trance. And suddenly it seemed as though he were seeing millions of beings around him, for he murmured to them "No, no, not you! Nor you, nor you, but you over there, come here to me." Apparently, whatever it was obeyed, for he communed with it for a long time and then came out of his trance, saying: "Yes, I think it might work, but the spirits are very angry with you."
I felt in my bones that this letter would need to be correct in every detail–even with place and time and date and a map reference as well. So I wrote, asking forgiveness for any unintentional disrespect we had shown, saying that this letter was an act of contrition not only on our own behalf but on that of others who might come after us. I made everybody sign it and those who could not, made their mark.
"Really, Laurens," said my hunter–a great friend and terribly English–"this is too ridiculous! I simply can't do a thing like this! What if they hear of it at my club?" But he signed, nevertheless, and I promised that the club would never know. So we rinsed out an old bottle, put the letter inside, and securely corked it, and Samutchoso and I went out at dawn and buried it at the foot of the hill. A feeling of some kind of catharsis came over me then, and I said to Samutchoso–"You brought us here. Can you tell me if it will be all right to take us back?" "It's not for me to say. You must ask the spirits." And again he went through his motions with the needle. "The spirits say that all will be well now, but at this place to which you are going–(I did not myself know, at the time, where we were going)–you will meet more trouble. You must realize, however, that it belongs to the past."
Then, as we walked back he said sadly, even tragically, "You know, even ten years ago, if you'd offended them like this, you would now, quite surely, be dead. They are not what they were, the spirits."
P.L. TRAVERS
They are not what they were because man is not what he was! Though I can't help feeling a little kindly towards the hunter who was afraid the club might get to hear of it! That spirits could read an English letter and the marks of untutored men–who would believe that? It takes an acquaintance with myth to recognize that what you did was an outward and visible sign of an inward and spiritual intention.
LAURENS VAN DER POST
Yes. And there's a sequel. People now know from my books about this letter and the place where it was buried, and fly aircraft overhead to try to get a glimpse of the paintings. Immediately after my experience a German scientific expedition went to investigate them, and barged in with their trucks which were immediately destroyed by fire. So, it's not just subjectivity. There is also objective evidence. And yet, knowing all this, and the spirit in which I had done it, they have dug up the bottle and it's now in the museum at Botswana. That's where the myth is, in museums, for most of us.
P.L. TRAVERS
Sacrilege. And I asked you where the stories go! I can't ask what we can do to get them back but know only that it has to be done. There must be a few men who understand the need for this. For instance, not long ago, I was told of three or four English doctors who had gone out to live with some African tribe to learn their methods of healing; and how they discovered that this is not a matter of giving a medicine or an antidote to one sick person, but that it is, rather, a communal matter–the whole family, the whole tribe, is concerned with the healing; feasting, dancing, sharing the sickness and the health among all. How could we bring such an activity to our world–such sharedness? But perhaps something has started.
LAURENS VAN DER POST
Well, I think you must just go on telling stories. They, too, are under law and cannot escape from it.
P.L. TRAVERS
You mean, perhaps, that, ultimately, the stories themselves can heal?
LAURENS VAN DER POST
Yes, that is probably a more accurate way of saying it. This process cannot be defeated; life itself depends on it. I could tell you so many examples from the primitive world.
P.L. TRAVERS
Well, tell me about the one–because I have something to add to it–where the Bushman woman came down on a cord and promised to stay with her Bushman husband as long as he did not look into her basket.
LAURENS VAN DER POST
Yes, that story is much to the point. Stories of the stars play a fantastic role in their lives, if you know how to decode them. You touch the spirit of Greece here. The Bushman's origin of the Milky Way is very like the Greek. I once saw a Bushman woman holding up her child to the sky and asking that it be given the heart of a star.
P.L. TRAVERS
I have thought that that's where Haley got his scene where the child is held up to the moon–from your Bushman story.
LAURENS VAN DER POST
Well, you probably know as well as I do the enormous amount of borrowing that goes on in the modern world.
P.L. TRAVERS
Ah, but, you know, it has to be, this borrowing. It's not yours or mine. It's there to be taken, a great big cauldron. One man takes something from it, another sees this and says "That's true, that's what I want." So he goes and takes it from the first man. I'm not worried about this, it's part of the general heritage.
LAURENS VAN DER POST
Yes, It's only the miserable ego that steps in. In the Bushman story that child was to have the heart of a star because "the stars," they say, "are great hunters. You can hear them on their courses up there." And that hunting, as you know, is a symbol of the search for the story, for meaning. Baudelaire talks about art being the summons on the horn of the hunter. "Les chasseurs perdus, dans les grands bois." Lost in the great forest of life, they blast out the summons which is art, which is story.
P.L. TRAVERS
As a child in Australia, the stars seemed so close. I used to think I could hear them humming. I never told anyone, they would have laughed.
LAURENS VAN DER POST
But you do. You do hear them hum. "Listen," my Bushmen would say, "they are hunting." But to get back to the story of the woman with the basket; it carries an immense mythological charge. The man, after feeling somehow that something was being stolen from him, saw one night a group of beautiful girls coming down from the sky on a cord. Each carried a little tightly woven basket. And one of them he caught. "Yes," she said, "I will live with you, on condition that you never look inside my basket without my permission." He agreed, but, inevitably, he said "What the hell!" or the Stone Age equivalent of the phrase. And one day, when he was alone, he opened the basket, peeped inside and roared with laughter. "You have looked into the basket!" she accused him, when she returned. "Yes, you silly woman, why make such a secret of it when there is nothing in it? The basket's empty." "You saw nothing?" She gave him a tragic look, turned her back and disappeared into the sunset. And the Bushman who told me the story said to me, "it wasn't the looking but the fact that he could not perceive in the basket all the wonders she had brought him from the stars." And that, for me, in a sense, is one of the images that the story is to the human spirit. The basket brings us its star-stuff and the pundits–the intellectuals and the critics–look into it and say it's all rubbish and superstition, and that there's nothing in it.
P.L. TRAVERS
Would you accept a carpetbag coming from the stars? I had never read your story, but when Mary Poppins arrived, the children looked into her carpetbag and, like your Bushman, found it empty. And yet out of it came all her mundane daily possessions, including a camp bed! Did all that come from the stars? We do not know. Emptiness is fullness.
LAURENS VAN DER POST
It is, it is. And I think the use of a carpetbag is a wonderful example of what I mean by making a traditional story contemporary. That carpetbag had, in fact, a magic carpet inside.
P.L. TRAVERS
Yes, but disguised. And from where was the magic carpet stolen? Out of the cauldron, of course! For instance, your film on the Kalahari gave me the ostrich egg, which also must have come from there. The ostrich was such a forgetful bird, you said, that she had to put one egg in front of her outside the nest to remind her of what she was doing. Later, when I was listening to the Greek Easter service on the radio, a reporter described the monks filing in, with eyes downcast, all except one, who was gazing round at the congregation. "Clearly," said the reporter, "he had forgotten the ostrich egg hanging over the altar." But how, I wondered, had the ostrich egg got there? I sensed a myth in the air. Years later, seeing a group of Coptic churches on television, all with ostrich eggs strung across the ceiling, my question arose again. I wrote to the producer, who told me that there were two schools of thought here, one that says the ostrich is a forgetful bird and another that of all the birds she is the most remembering. So, does she remember or does she forget? It almost doesn't matter. The egg, in both cases, is the reminder, and the link between my three experiences.
LAURENS VAN DER POST
Yes, yes, the link. However much we try to deny it, the dream goes dreaming through us. Deep in the spirit of European man there is an ostrich and it lives heraldically. Our Prince of Wales has three ostrich feathers in his crest; in Stone Age mythology, the moon was made out of the feather of an ostrich. So the ostrich, in a sense, is Prometheus, the bird from which man, Mantis and the god-hero stole the fire and brought it to man.
P.L. TRAVERS
But there's a sequel to my egg story. Hearing it, a Jungian analyst we both know have me an ostrich egg to take with me to America. And while I was there it sat on my bookshelf, sometimes but, alas, not always, remembered. And when I was leaving for England, it seemed to me that it said "Don't take me!" So I gave it to the Dean of the Cathedral Church of St. John the Divine in New York who thought it would look well on his mantelpiece. But I knew it wouldn't stay there. The egg would go where it belonged. And it did. The next time I saw it, on another trip, it was hanging in the Cathedral, above the altar of St. Saviour's Chapel. There's a story for you!
LAURENS VAN DER POST
And add to it the belief of many primitive people in Africa that the sun is an egg.
P.L. TRAVERS
It is known by whom or what it was laid?
LAURENS VAN DER POST
It hatches great birds! And how it was laid is not to be known. You will find this determination among instinctive people not to try to carry an act of knowing too far. They say, "This is where we must stop." And then they let the myth take over and wait till it tells them what else there is.
P.L. TRAVERS
That is what I've always found. We must stand in front of the mystery. "Take upon us," as Lear said. "the mystery of things as if we were God's spies."
LAURENS VAN DER POST
Yes, and if one looks at it that way, one finds the lines of communication between the storyteller of today and the first storyteller; between us and the person who dreams, or is dreamed by the universe, these lines of communication are intact. They can never, never fail.
P.L. TRAVERS
We have ancestors.
LAURENS VAN DER POST
We have ancestors. Long ago I sat at the feet of a Japanese storyteller and he began with "Once Upon a Time." And years later, in a night of great turmoil, the expression on his face when he said those words came back to me.
P.L. TRAVERS
The old phrase! Everywhere!
LAURENS VAN DER POST
And hearing it, a great peace came upon me. I was beyond space and time, everybody was a neighbor–this universal feeling of propinquity which makes the mystics speak of the forever which is now.
P.L. TRAVERS
And it will be along these lines, remembering the long genealogical tree, would you say,that we'll preserve them?
LAURENS VAN DER POST
Very good, very good–Yes, through this world of ancestors, this genealogical tree of the spirit and the myth, the material of so-called barbarians. Cafavy, one of the most civilized of modern poets, wrote:
"And now what will become of us without
barbarians?
Those people were some sort of solution."
P.L. TRAVERS
Let them be blest, the barbarians, and not vanish from the world!
***
From Parabola, "Dreams and Seeing," Volume VII, Number 2
If you enjoyed what you have read, why not subscribe?
---
This article originally appeared in Parabola, "Dreams and Seeing," Volume VII, Number 2. Parabola is a not-for-profit organization that. Four times a year for over thirty-five years it has gathered the wisdom of the world's spiritual traditions to illuminate the central questions of life.